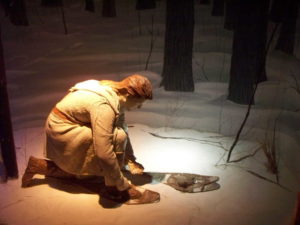 I am 8000 years old.
I was born out of the trauma of this land as it buckled and ruptured and gave way amidst thunderous sound and gigantic force — carved and formed by nature's relentless sculptor…the glacier.
I am the St. Mary's River… and this is my story.
The River of History Museum is located in downtown Sault Ste. Marie at 531 Ashmun Street with two-hour free parking in the front and parking for buses available on Court Street behind.
Group rates are available for any size party or school class. The self guided tours use a sound wand that will narrate your journey as you reach each individual milestone of the river's thousands of years of rich history.
Tickets are available at the museum ticket office located in the front of the museum. Combination tickets for multiple historic sites are also available in our ticket office or may be purchased at the Museum Ship Valley Camp or the Tower of History with discounts for each site you visit.
---
The River is on TV!

Check out our new commercial spot featuring the Museum and the new online store! With Books, Coffee Mugs, Stuffed Animals and more there really is something for everyone!
---
Hours of Operation
---
Open May to Mid-October
11:00 A.M. to 5:00 P.M.., Mon – Sat.
Off Season Admission by appointment
(906)632-1999 Museum Office
(906)632-3658 Off-Season Contact / Tour booking
2017 Admission:
---
Children (5-17 yrs) $3.50
Adults $7.00
Group Rate – Available
School Rates – Available
Rates subject to change.