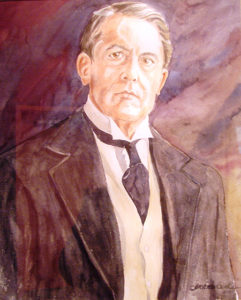 Chase S. Osborn was born in a log cabin in Huntington County, Indiana, on January 22, 1860. He became a newspaperman in Milwaukee, Wisconsin and moved to Sault Ste. Marie in 1887 when he purchased the Sault News. Although he acquired interests in about thirty different newspapers across the country, Sault Ste. Marie remained his home.
Osborn was much more than a newspaperman, however. "Hunter, woodsman, naturalist, mining prospector, scientist, world traveler, statesman, newspaperman, politician, author, orator" – Chase Osborn was all of these and more. One of Osborn's passions, the study of iron ore, made him a wealthy man. For many years, he spent his summers tramping the north woods of Canada, searching for iron ore deposits. His winters were spent travelling with his wife, Lillian, exploring "all the places in the world, where iron ore was produced in commercial quantities." In 1900, his explorations proved successful. He discovered what he named "Moose Mountain" in Canada. By 1902, iron ore was being extracted from this iron range, north of Sault Ste. Marie on the shores of Lake Superior.
Chase S. Osborn was the twenty-seventh Governor of Michigan for one term, 1911 – 1912. He was also the only Governor of Michigan from the Upper Peninsula. Early in his first year in office, Governor Osborn announced that he would not run for a second term, and he kept that promise. He believed that a concern with reelection would necessarily influence one's decisions, no matter how unconsciously it would appear. He did not want to have to worry about pleasing factions or tempering his platform of reforms with a thought to reelection.
Osborn was a part of the Progressive Movement. He believed that government should more clearly represent the will of the people. To that end, he promoted the initiative, referendum, and recall, all Progressive issues. He supported woman suffrage – seven years before Michigan voted for it – and pushed for a statewide vote on the issue, which, however, when it came, was defeated.
Osborn had promised during the campaign to initiate many reforms, and he followed through on those promises. His greatest accomplishment in office was the passage of Michigan's first workmen's compensation law. He also succeeded in getting through a law to reorganize the Michigan National Guard and one providing for a bipartisan commission to study the entire taxation system of Michigan. The Sixteenth (income tax) Amendment to the Federal constitution was ratified during Osborn's term of office. Other important legislation passed during his term included bills to regulate business "in the area of railroads, express companies, telephone companies, banks, insurance companies, and saloons."
The railroad and saloons were especially important to Osborn. From his earlier employment as state railroad commissioner, he had come to believe that government should have ownership of the railroads, a view he held for the rest of his life and one that some feel irrevocably negated any chance he may have had at the Republican nomination for president. His position on saloons and "the liquor question" solidified over a period of years until eventually he came to feel that prohibition was necessary to solve the social problems he blamed on too-readily available alcohol.
When Osborn took office in January 1911, Michigan's deficit was "nearly a million" dollars, by the end of this term in 1912, he had converted that to "a surplus of nearly a million dollars." His administration is recognized for its complete lack of scandal or corruption, its concentration on reform and Progressive issues, and a concern for "the little guy."
Osborn loved the outdoor life, the study of nature, and all areas of science. Over his lifetime, he became an amateur naturalist of some merit, making contributions to numerous fields within botany and zoology. In 1915, while summering at his cabin on Duck Island in the St. Mary's River, he discovered the source of the firefly's light. The full story of his chance finding was told in an article in the April 8, 1916 edition of the Saturday Evening Post.
Osborn published his first book, The Andean Land, in 1909. By then, he had already been contributing material to a number of publications in America and abroad as a foreign correspondent. In 1919, he published his autobiography, The Iron Hunter, and followed that over the next thirty years with eleven more books. Schoolcraft – Longfellow – Hiawatha, published in 1942 is considered to be his outstanding work.
Chase S. Osborn died at his winter cabin in Poulan, Georgia, on April 12, 1949. It has been said of him that, "He was a friend of the great, the highly placed, the powerful, the wealthy, whose company he kept and whom he counseled, and advised…" and "He could have lived in a palace, but he preferred the cabin." He had traveled the world and "had boldly taken all knowledge for his province," but at the last, his life ended where it began – in a log cabin. His body was returned to Michigan, where services were held in Lansing and Sault Ste. Marie. His gravesite is on Duck Island in the St. Mary's River.
Our community has been very privileged with the generosity of Chase Osborn. Tangible proofs of his contributions are the St. James Episcopal eleven iron bells, the Capitoline Wolf with Romulus and Remus on the Chippewa County Court House lawn, the Torii in the Soo Locks Park, the Ferradini Lions on the steps of the Carnegie Library (EUPISD), the cross on top of the Central United Methodist Church steeple, and all of the purchases and donations of paintings that form part of our local collections.
The legacy of Governor Chase Salmon Osborn remains alive in our community. On the campus of Lake Superior State University, one of the students' residences is Osborn Hall. You can also drive or walk down Osborn Boulevard, and see his memorial along Water Street, within the Soo Locks Park. One block away on Water Street, located at the intersection of Ashmun Street, stands a three-story historical building (115 Ashmun Street). This is the Sault News that Chase Osborn built in 1889. Over the course of years, tenants such as the Edison Sault Electric Company, and the Sault Alternative High School occupied the facility. It is now the home of the Chippewa County Historical Society.
A major facade restoration project will be undertaken over the course of next year. State of Michigan funding has been approved and engineering contracts have already been finalized. The opportunity to show your interest and participation in historical preservation is eminent. You are invited to contact the society for more information (906-635-7082) and become part of preserving the legacy of Governor Chase Salmon Osborn. Visit the society's web site at http://www.cchsmi.com or become friend of Chippewa County Historical Society on Facebook. This is your key to our local history.