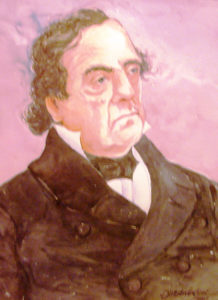 Lewis Cass was born in 1782 in Exeter, New Hampshire, and moved to Ohio in 1799 when his father, Jonathan Cass, was awarded bounty land there for his service in the Revolutionary War. Lewis studied law in the office of Return Jonathan Meigs, who later became Governor of Ohio, and was the first lawyer admitted to the bar after Ohio became a state in 1803. Cass was ambitious and soon became involved in local politics; as a county prosecutor in 1804, state representative in 1806, and U.S. Marshal for Ohio in 1807-12. He was an officer with the Ohio militia and then in the Regular army where he served under the command of Major General William Henry Harrison.
In 1813 General Harrison chose Cass as military administrator of Michigan and Upper Canada and President James Madison appointed him Governor of the Michigan Territory (present-day Michigan and Wisconsin, and part of Minnesota). Cass' duties included serving as superintendent of Indian affairs. He negotiated many treaties that involved leading expeditions into remote areas of the territory. In the expedition, of 1820, involved travel to Mackinac Island, Sault Ste. Marie, and Lake Superior to northern Minnesota. Henry R. Schoolcraft was enlisted as geologist and mineralogist and his Narrative Journal of Travels is an account of that journey. Susan Johnston was a peacemaker in the negotiations with the local Ojibway, which led to a treaty ceding land that became Fort Brady in 1822, the same year that Cass appointed Schoolcraft the Sault's Indian Agent. The expedition of 1820 marked the beginning of scientific study of the American Indian. Cass published a volume on Indian customs in 1823 and Schoolcraft continued his research and published extensively on the subject.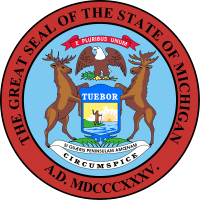 Lewis Cass resigned as Territorial Governor in 1831 after his appointment as Secretary of War by President Andrew Jackson. Cass became "one of the master architects of American Indian policy." He helped resolve the controversy over the Toledo strip in 1836. He recommended surrendering the land and accepting as part of Michigan the area north of the Straits of Mackinac, the Upper Peninsula, that he knew to be rich in natural resources. Michigan was formally admitted as a state the next year. Cass served as Minister to France from 1836-42, a U.S. Senator from Michigan from 1845-48 and 1849-57, the Democratic Party's nominee for President in 1848 (he lost to Zachary Taylor) and as a candidate in 1852 and 1856 and Secretary of State under Buchanan from 1857-60.
Lewis Cass died in Detroit in 1866 after a productive political career. He authored the state motto ("If you want to see a beautiful peninsula, look around you"), designed the state seal, and founded the Historical Society of Michigan.