Quoted from the Army-Navy Register 1942
Courtesy of Lake Superior State University – Kenneth J. Shouldice Library
Ski-troopers of the 702d Military Police Battalion at Fort Brady, MI are braving heavy snows and temperatures often sub-zero to prepare for mid-winter ski maneuvers.
Fort Brady, Michigan's "Alaska" outpost, commanded by Lieut. Col. Nels. L. Soderholm, has been the home station of the 702d since its activation slightly more than a year ago as the first Zone of Interior Military Police Battalion to be formed in the Army.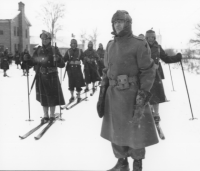 The battalion celebrated its first organization day anniversary this month with a full-field parade in sub-zero weather and now the cold-toughened troops are skiing daily in prospect of maneuvers through the snow-bound vicinity.
Officers and enlisted men of the battalion received skiing and snowshoeing instruction last winter and are now prepared to undertake the sham combats planned for this winter.
Birger Berg, former Norwegian cross-country ski champion who is now winter sports technician in the recreation department of the Michigan WPA, gave ground-work instruction in the art of soldiering on skis at Fort Brady last winter. He has returned to assist in training through January 24 and will be at the fort in February and March for advanced ski and show shoeing training.
Fort Brady troops, equipped with Army's newest rifle – the Grarand semiautomatic and with ski-mounted light machine guns, will travel over the snow-covered hills of Michigan's "ice-box" in mock battle. They will be clad in camouflaging white parkas worn over their regular uniforms.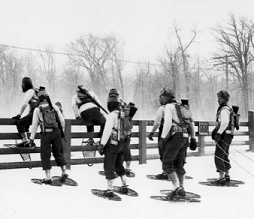 Other available equipment such as the "walkie talkies", toboggans and snow-shoes will be utilized in this realistic defense of Michigan's northern boundary. The "walkie-talkie" is a portable radio used for two-way communication by the battalion commander and his unit commanders. The toboggans provide transport for machine guns, food supplies and other equipment. The snow shoes will augment the skis in equipping the men for movement on any kind of snowy terrain.
It is the desire of Col. Soderholm that every officer and enlisted man at the fort be an expert skier by the end of this winter season. With the natural advantage of the surrounding terrain and the available expert instruction, every opportunity is offered to the men of Fort Brady to become proficient on skis and snow shoes. Every officer and enlisted man is required to ski or snowshoe for one hour each day.
Not only are the troops taught skiing and snowshoeing but they also receive WPA guide instruction by Dexter McSwain, chief guide, in making and repairing snowshoes, renovating skis, property location, trail-blazing, scouting and compass work.
To make full use of the recreational opportunities of the North Country for morale activities, Col. Soderholm has arranged to have WPA guides for hunting and fishing.