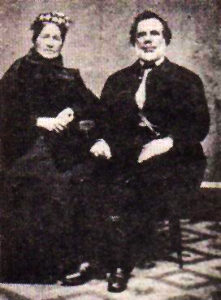 Pierre Boisdorè Barbeau was born in La Prairie, Quèbec on June 29, 1800. He came to the Sault in 1822 as an employee of John Jacob Astor's American Fur Company. In 1831 he married Archange LaLonde, the daughter of Josette Marlow LaLonde, who settled in the Sault in 1826.
Shortly after the birth of their first daughter, Flavia, in 1832, Barbeau was assigned to a trading post on the Baraboo (Baraboo was the pronunciation of Barbeau's name used by the Indians of that locale) River in Wisconsin. It was in Baraboo that daughters Henrietta (1834) and Augusta were born. Augusta died in early childhood. Barbeau became a naturalized American citizen at Mackinac on July 24, 1834.
On June 13, 1842, Barbeau left the American Fur Company and established his own store and trading post in the Sault. In that year, he also became state representative, in which capacity he was very influential in promoting the first locks at the Sault. From 1842 until his death on October 17, 1882, he was considered, by most, the Sault's leading citizen. In 1845 he was elected Register of Deeds for Chippewa County. The following year he was elected the second judge of the County and in 1849 the village of Saint Mary was incorporated and he was elected president. The act creating the village was annulled two years later, but in 1879 when the village was reincorporated under the name of Sault Sainte Marie, he was again elected president unanimously. When the cornerstone was laid for the Weitzel Lock on July 25, 1876, Barbeau presided.
In 1864 Barbeau sold his business to his son-in-laws, Myron W. Scranton. He continued to work in the real estate area purchasing and developing numerous farmlands and properties in and around the Sault area. Among his purchase were the Indian Agency (the earlier home of Henry Rowe Schoolcraft), Chippewa Street (now name Barbeau Street), and Barbeau Alley (now called River Street, located between Water Street and Portage Avenue). Barbeau Settlement and Post Office, as well as Barbeau Point in Munuscong Bay are named for him.
Peter (Pierre) Barbeau along with his wife (Archange), one daughter (Henrietta), a son-in-law (Myron V. Scranton), and a granddaughter (Henriette Irène) are buried at the Riverside Cemetery, in the far South Eastern corner of the grounds.